The 51 Best Engagement Gifts for Couples in 2022
From biscuits to baubles, check out our pick of the best engagement gifts to say your congratulations to a special couple
We have included third party products to help you navigate and enjoy life's biggest moments. Purchases made through links on this page may earn us a commission.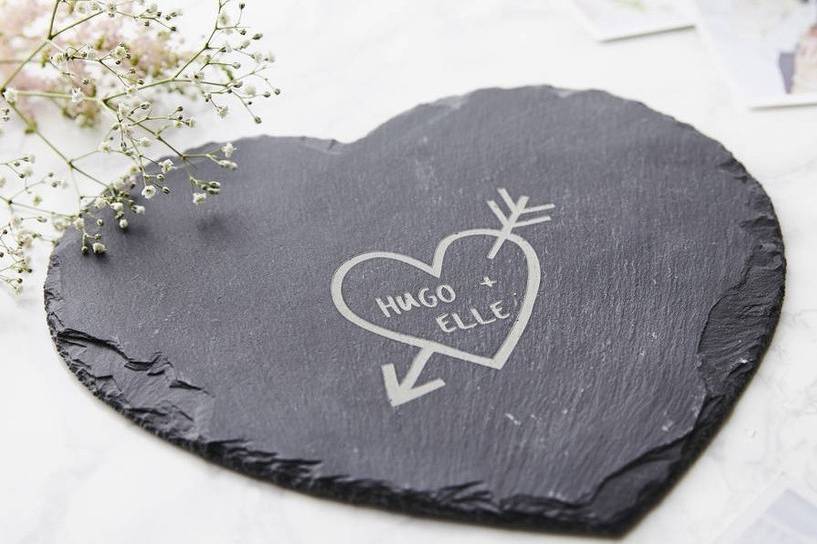 When two of your favourite people decide to get married, it's definitely an occasion worth celebrating. So if someone you know just popped the question – or said yes to it! – getting the happy couple an engagement present is a lovely way to let them know just how thrilled you are for them both.
We know that great engagement gifts can be tricky to pick – there's no official list or registry to follow, and often it comes as a surprise, so you won't have had time to think ahead. But no matter what kind of couple you're shopping for – or how much money you've got to spend – we've tracked down the best engagement gifts for couples out there right now, and there really is something for everyone.
With ideas for food, drinks, homeware, and even experiences that will make this pre-wedding period feel even more exciting and special, we guarantee you'll find the perfect present for the happy couple in the edit below. Then once you've made your choice, it's time to start brainstorming for the wedding gift…
1. Star Map of the Night Sky – From £11.95, My Dawsy
This custom print of the night sky is such a unique engagement gift that the happy couple will love, as it depicts the exact constellations of the day they got engaged. It's a thoughtful keepsake that they can hang in the home they're building together and treasure for years to come.
2. Tall Geo Pillar Candle Holder Set of Two – £21.99, Hitched Shop
These stylish geometric pillar candle holders will look amazing on the dinner table or brightening up a corner of your favourite couple's home. Plus, they'll encourage plenty of candlelit evenings in!
3. Love Lives Here Print – From £18, Lucy Says I Do
Love the idea of wall art but less keen on personalised prints? This pretty abstract floral design from Lucy Says I Do could be just the thing. The text says it all!
READ MORE: The 21 Biggest Wedding Trends for 2021
4. Personalised Vow Books ­– £21.99 Each, Hitched Shop
If the newly engaged couple are wordsmiths, chances are they may be considering writing their own vows. These vow books will come in handy for jotting down their romantic words and act as a wonderful keepsake after the big day.
5. Cloud Key Holders – £8.99, Amazon
These cute cloud key holders are a fun, romantic gift idea. If one (or both!) of them is prone to losing their keys, it might also be the most practical present they've received in a long time too... Just stick it to the wall by the front door and they'll always know where to find their keys!
6. Personalised Stemless Wine Glass ­– From £0.99 Each, Hitched Shop
Choose a logo, a print colour and add a personalised message and give them something they can toast their engagement with! We adore these stemless wine glasses.
7. Polaroid Photo Block – From £14, The Personal Wedding Co
If you're looking for an engagement gift on a budget then this polaroid photo block is an adorable idea that can be personalised with the names of the couple. They can also switch out the photo to a wedding picture after the big day has taken place.
8. Rose Gold Champagne Glasses ­– £65.99, Hitched Shop
Who doesn't love a bit of rose gold? Certainly not us! In fact, we could definitely see ourselves – or an engaged couple we know! – toasting with these rose gold beauties.
9. Personalised Couples Matching Love Mug Set – £26, Oakdene Designs
This set of mugs say the word 'love' when they are next to each other – what could be more appropriate? We love the contrasting colours and geometric patterns; the ideal gift for a couple that are both different but perfectly matched.
10. Personalised Rose Gold Stainless Steel Hip Flask ­– £21.99, Hitched Shop
A stylish hip flask like this one from the Hitched Shop will come in handy for hen or stag parties or just any other celebration during the wedding planning journey!
11. Mr & Mrs Mugs – £44, Emma Bridgewater
Emma Bridgewater's iconic Mr & Mrs mugs are a much-requested wedding present, but we think they'd make a fab engagement gift too. You can get Mr and Mr ones and Mrs and Mrs ones too so it's perfect for every couple. The inscription inside reads 'to have and to hold' and 'to love and to cherish' – just a little taster of their vows.
12. Pop the Bubbly Cake Topper ­– £19.99, Hitched Shop
If your fave newly-engaged couple are planning an epic engagement party, treat them to this fun cake topper and encourage the fizz-filled celebrations!
13. Mason Plant – £10, Patch
Meet Mason – a small but perfectly-formed plant from Patch! Green-fingered couples will love to add it to their collection and watch it grow.
14. Personalised Ring Box ­– £27.99, Hitched Shop
With an engagement ring or rings and some wedding bands on the way, a newly-engaged couple is going to need somewhere to store their bling. We think these personalised wooden boxes fit the bill perfectly.
15. Time Together Smartbox – £79.99, John Lewis
If you're not quite sure what to buy your newly engaged friends then this time together smartbox lets the couple choose from a range of fun activities, including mini-breaks in the country, romantic dinners and spa days.
READ MORE: 21 of the Quirkiest Gift Experiences for Couples
16. Personalised Wooden Wine Gift Box – £19.99, Hitched Shop
Treat the newly-engaged wine lovers in your life to a bottle of their favourite plonk nestled inside this adorable personalised wooden gift box – it's a guaranteed winner!
17. Waterfall Glassware – £14, Anthropologie
Newly-engaged couples tend to receive a lot of Champagne, so these glasses from Anthropologie will get plenty of use. The waterfall colour detail is stunning and the gold edging makes a gorgeous finishing touch.
18. Personalised Pocket Wedding Ring Holder ­– £35.99, Hitched Shop
Help them keep their rings safe with this handy personalised pocket wedding ring holder. Choose from a gold or rose gold finish and personalise it with your own message.
19. Roebling Cut Crystal Highball Glass, Set of Four – From £129, Soho Home
Perhaps they're more into mojitos than Champers, in which case these crystal highball glasses from Soho Home will go down a treat. The straight lines are inspired by the cables on the Brooklyn Bridge, and each piece is hand finished.
20. Mr and Mrs Balloon ­– £17.99, Hitched Shop
Remind them of what's to come with this fun rose gold Mr & Mrs balloon! It's a fun accessory to incorporate into engagement party décor. The set actually comes with balloons that spell Mrs & Mrs so you just need to take out one or two S's to make it relevant to your couple.
21. Story of Us Print – £32, Letterfest
This Story of Us print from Letterfest is great for a newly-engaged couple that you know really well. Customise this print with all the special milestones in their life – it's so lovely for them to be able to look back over the years.
22. Personalised Wooden Serving Board ­– £29.99, Hitched Shop

If the newly-engaged couple in your life love to entertain, why not gift them with this personalised serving board? They can serve up cheese, charcuterie or even a breakfast platter on it!
23. Love Concrete Base Neon Sign – £67.46, Red Candy
Neon signs are still a wedding trend, so why not embrace this when searching for the perfect engagement present? This stylish love sign has a vibrant pink neon light that sits on a base of industrial concrete. In fact, we sort of want one for ourselves…
24.
Nona Set of Three Stoneware Tapas Bowls

– £15, Habitat

These Habitat bowls are another homeware gift option that we're totally head over heels for – get them for the couple whose love dining on tapas.
25. Grow Your Own Confetti – £30, The Gluttonous Gardener
If you're looking for a quirky engagement gift that is meaningful and a little bit different then this 'grow your own confetti' gift from The Gluttonous Gardener is amazing. We love the idea that the engaged couple can grow the seeds together and turn them into a project for the big day itself.
READ MORE: The Most Romantic Christmas Proposal Ideas
26. Personalised Copper Engagement Bauble – £14.99, The Alphabet Gift Shop
If the happy couple had a Christmas proposal then an extra special personalised bauble from The Alphabet Gift Shop will be a brilliant gift for them. Even if Christmas has passed, they can keep this special tree decoration and hang it up each year as a happy reminder of their engagement.
27. Engagement Gem Biscuits – £15, Honeywell Biscuit Co
These gorgeous gem biscuits from Honeymoon Bakes are the most delicious engagement-themed gift for a special couple in your life. The freshly baked vanilla biscuits are hand-iced with delicate pastel icing and can be stamped with your own personal message.
28. Engagement Luxury Gift Box – £100, Biscuiteers
Alternatively, if you know a smaller biscuit selection will be demolished in a matter of minutes, Biscuiteers' luxury engagement gift box comes with nine hand-iced lemon biscuits, presented in a lovely hand-illustrated gift box. It also comes with a bottle of vintage English sparkling wine.
29. Perfect Match Candle – £24.99, Prezzybox
A hand-poured candle will make your friends' home even more inviting, and this witty Perfect Match candle will make a fabulous addition to their mantlepiece. The matches can be personalised with their names in eye-catching gold vinyl.
30. Marmor Paperie Feather-Marbled Album – £59, Selfridges
They've already made some amazing memories together, but now there's a lifetime more to come. This Marmor Paperie photo album offers the opportunity to capture them in a book that looks good enough to display on their coffee table.
READ MORE: Our Favourite Wedding Candles
31. Carved Slate Heart – £26, Sophia Victoria Joy
This gorgeous slate serving board from Sophia Victoria Joy comes personalised with the couple's names featured inside a heart. If your newly-engaged friends are real foodies then this is a perfect engagement gift for them – cheese boards and charcuterie never looks so romantic.
32. Small Cheese Fondue For Two Set – £40, Paxton & Whitfield
This fondue kit for two is incredibly cheesy, and we mean that in the best possible way! Inside they'll find a ceramic fondue pan, two forks, a bamboo stand and a tea light to keep things melty. Of course, the fun doesn't stop at cheese, as it's also just as good with chocolate.
33. Chocolate Engagement Gift – £11.99, Morse Toad
Speaking of chocolate, a big box of luxury chocolates will always be greatly appreciated by couples with a mega sweet tooth. To make it an even more personal engagement present, give them their favourite kind of chocolate and personalise it with a message – we love this chocolate engagement gift from Morse Toad.
34. Congratulations Chocolates and Prosecco – £20, M&S
Want to take your chocolate gift to the next level? Add a bottle of prosecco with this impressively affordable bundle from M&S, which comes with a selection of Swiss chocolates and 75cl of fizz.
READ MORE: 33 Essential Bride Accessories Every Wife-to-Be Needs
35. Wedding Notes Notebook – £34.99, Papier
Now we all know that the best wedding planner is the Hitched online wedding planner (obvs!). However, if you know the newly engaged couple love nothing more than scrawling down their notes and ideas then this notebook from Papier is ideal. It comes in a choice of black, white, or this chic apricot, embossed with rose gold foil.
36. Tying The Knot Notebook – £55, Smythson
For an even more luxurious take on a wedding planner, it doesn't get much swankier than Smythson's Tying The Knot notebook. It's bound in crossgrain lambskin and each of the pale blue pages are giltter-edged – seriously swoonworthy stuff for couples who like the finer things in life.
37. I Said Yes Bag – £13.07, Etsy
This tote is perfect for your newly engaged BFF – why not pop some wedding planning magazines and a bottle of Prosecco in there so you can get the preparations off to a start asap?
38. Personalised Ring Dish – £16, Foxery
Now your friend has a glittering ring on their finger, they'll needs somewhere safe to put it when in the shower, washing up or applying fake tan! This personalised ring dish from Foxery will be the perfect way to keep that sparkler safe.
39. Wedding Countdown Chalkboard – From £9.99, Etsy
This rustic-style wedding countdown board is a sweet visual way for the couple to count down to their wedding date. We love the fact you can personalise it any phrase you want, like 'sleeps until we get married' or 'days until we become Mr and Mr...'.
40. Engaged Cake Topper – £15, Sophia Victoria Joy
Any excuse for cake, we'll take it! If you want to celebrate the newly engaged couple in style then why not bake them a cake and top it with this stylish calligraphy engaged cake topper from Sophia Victoria Joy?
READ MORE: Unique Wedding Cake Toppers
41. Foil Engaged Card – £6, Coulson Macleod
Go the extra mile with your engagement card with this gorgeous foiled card from Coulson Macleod that spells out 'engaged'. You can also choose to have your own personalised message printed on the back of the card to give it a more sentimental touch.
42. Wedding Fund Money Box – £22, Nikita by Niki
Saving up for your wedding is no mean feat. This handmade wedding fund money box from Nikita by Niki will help them to kick-start their wedding budgeting.
READ MORE: 25 Awesome Wedding Budget Hacks to Help You Save
43. Better Together Wedding Print – £17, Paperhappy
This simple print from Paperhappy is a stylish engagement gift for your favourite minimalist couple – the print can be personalised with their names and is an elegant choice that will look chic in any home.
44. Personalised Map Jigsaw Puzzle – £29.99, Butler & Hill
Maybe it's the place they met, the spot they got engaged in or the home they're living in now – either way, this personalised map puzzle from Butler & Hill marks the spot of any postcode you choose in the most delightful way.
45. Me, You, Us: A Book To Fill Out Together – £9.19, Amazon
No matter how long they've been together, there's always a chance to learn something new. You, Me, Us is a creative engagement gift that provides tasks for them to complete together – writing fortune cookies to each other, for instance, or picking their own personal theme song. It's a super novel concept and they'll have plenty of laughs along the way.
46. Couples Enamel Teapot – £38, Sophia Victoria Joy
This adorable enamel teapot from Sophia Victoria Joy is a gorgeous gift for a newly engaged couple. The teapot has their names together and then they each have their own personal cups, ready and waiting for all of the romantic breakfasts in bed they have ahead of them.
47. Love a Latte Hamper – £50, Hay Hampers
Alternatively, why not get them a lovely coffee hamper? The Love a Latte hamper from Hay Hampers contains delicious Italian coffee, biscuits, shortbread, chocolates, and a bottle of coffee syrup. What's more, they even offer free UK delivery!
48. Engagement Confetti Balloon – £32, Bubblegum Balloons
This 'he put a ring on it' helium balloon from Bubblegum Balloons is a surprise engagement gift that also doubles up as a genius prop for their next Insta post. The oversized balloon is filled with confetti and has a trailing rose gold garland to top it off – dreamy stuff!
49. Mr & Mrs Enamel Pin Set – £12, Alphabet Bags
Looking for something that combines fashion and function? These enamel badges from Alphabet Bags can be worn on lapels, totes, backpacks and more, or even used on pinboards at home to help them when they're coordinating the wedding planning process. They come in Mrs and Mrs, and Mr and Mr sets too!
50. Get A Room Gift Card – From £50, Mr & Mrs Smith
For couples who've been well and truly bitten by the travel bug, the gift of a night in a swanky hotel will be the best one ever. A Mr & Mrs Smith voucher can be used in the finest boutique hotels, either here in the UK or on their next trip around the world.
51. Three Months of Flowers – £70, Bloom & Wild
When you first get engaged, the house is usually filled with flowers, but even the best bunches don't last for more than a week or two. This three-month flower subscription from Bloom & Wild will keep the magic of this momentous occasion alive for that little bit longer.
If you've been invited to the hen party, check out these hen party cocktail games and list of hen party dares to get you in the mood.