England Netball Pros Stacey and Sara Francis-Bayman Look Back on a Year of Marriage
Having navigated a long-distance relationship and pandemic wedding planning, England netball professionals Stacey and Sara Francis-Bayman share their insights into their first year of marriage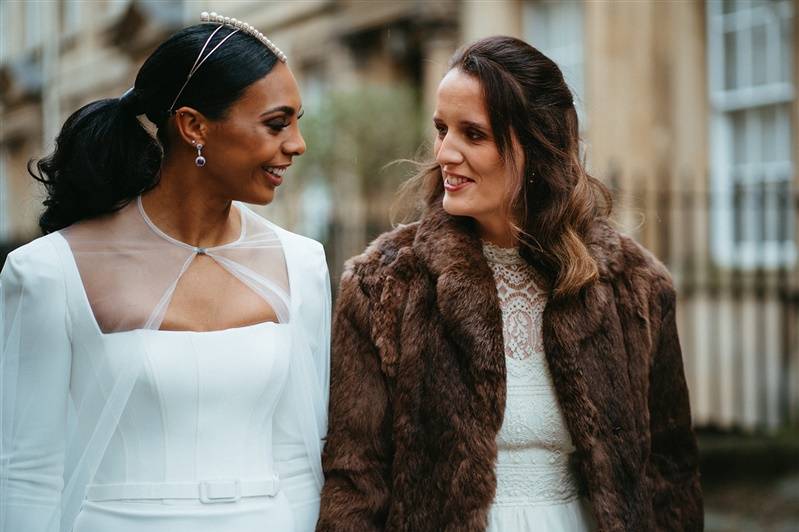 Stacey Francis, professional netball player for Australian-based West Coast Fever and Sara Bayman, Director of Netball at Loughborough University, first met in 2005 as netball players for Team Bath. The couple have both played together for the England netball team, representing England side by side at the 2010 Commonwealth Games.
After getting engaged with a romantic Christmas proposal in the Canadian mountains in 2018, the pair were set to marry in October 2020, but it wasn't just nine-thousand miles of distance between them that they had to navigate - pandemic wedding planning restrictions were in place too. Having tied the knot with a small ceremony and then among family and friends at the end of 2021, Stacey and Sara shared with us everything they've learned in their first year of marriage, their wedding planning experience and their biggest relationship inspirations.
What Have You Learned in Your First Year of Marriage?
Stacey: We got married on December 29th, 2020, with the date not being our first choice but what we thought we could manage during Covid. Sara's birthday is December 23th, then there is Christmas Day, our wedding anniversary followed by my birthday on January 1st. We absolutely love to celebrate special occasions and I make a big deal out of most things, but throughout that period last year of celebration even I struggled to keep the pep for an additional joyous occasion squished in. I think in the future, we will celebrate when we had our 'I do-over' (30th October, 2021) to spread the joy around a little.
How Has Your Relationship Changed in Your First Year of Marriage?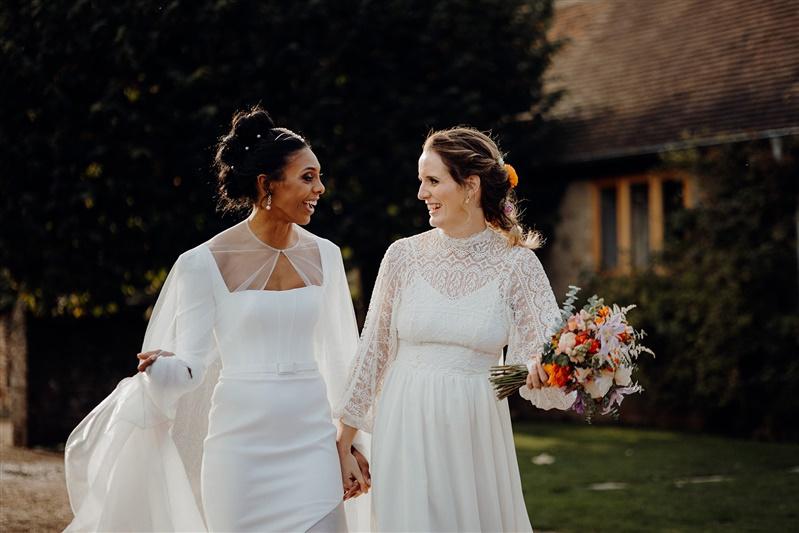 Stacey: I do feel like things have changed being married. It makes me feel secure. Sara and I have spent the majority of the past five years apart as I play netball in the Suncorp Superleague for the West Coast Fever, who are based in Perth, Western Australia. Despite the Covid setbacks we were determined to get married and start that next chapter of our lives and almost draw a stake in the ground.
Sara: Marriage has made me feel anchored and grounded in a really great way. Knowing you've got that person in your corner to encourage, support and love you is inspiring to go and dare greatly because they'll always be there.
READ MORE: 30 of the Best Bridal Capes
How Was Your Wedding Planning Experience?
Sara: Stacey did most of the planning so I can't really take any of the credit. I was interested in the food, drink and entertainment. Stacey is a details person, which is lucky because I would have forgotten so much.
Stacey: I really did enjoy the planning of our wedding. I am creative, have particular opinions and lots of ideas. Sara set the budget and then let me run with a lot of things. Although moving the day twice, and then planning a whole additional wedding was stressful in terms of not having any certainty around if things would go ahead as you planned, I loved the whole process. Researching and comparing vendors to get us exactly what I wanted and for the best price, finding ways to include who we are as individuals and as a couple into the day and budgeting and communicating with everyone.
What Challenges Did You Face During the Pandemic & How Did You Overcome Them?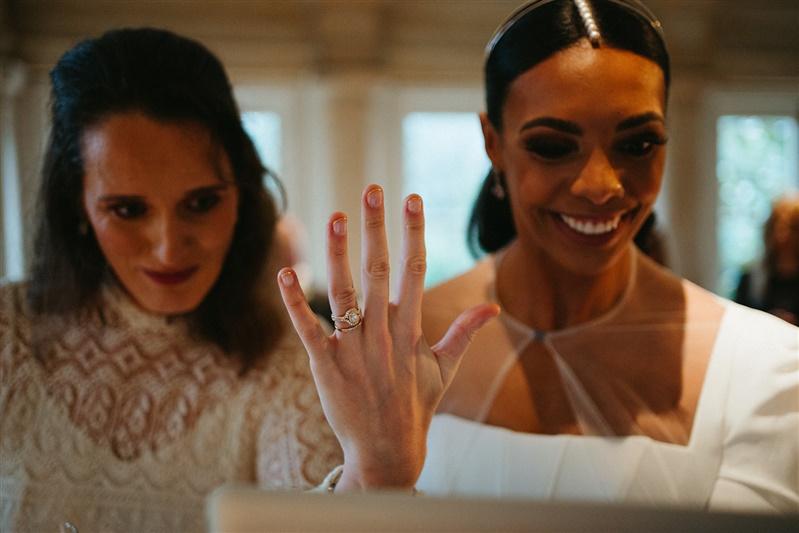 Stacey: We were originally meant to marry in West Sussex at a family property on October 24th, 2020. Due to the pandemic, we pushed our day back as my netball season in Australia was delayed and I was not expected to return in time. Given how much of our lives are spent apart (I'm a professional netball in Perth, Australia for the West Coast Fever, whilst Sara is Director of Netball at Loughborough University) we didn't want to delay starting our married lives together any longer and so with restrictions beginning to tighten and weddings becoming smaller and smaller we decided to push back our big plans to 2021 and have a small ceremony in a place that was meaningful for us both. We met and both graduated from the University of Bath and it was the place I called home for 10 years prior to moving to Perth.
My parents, sister and one of my aunts live in Canada and the closer we got to the rearranged and re-planned December date they made the call that they would not be flying over due to the amount of uncertainty that was still swirling around. I was devastated, as even with all the other adjustments and compromises along the way, my only non-negotiable was having my parents and sister there. I am a very stubborn and values driven person and I really struggled with the decision for a few days.
However, for us, the main thing had always been about starting our married lives together, and so with my parents' encouragement and absolutely all of the stars aligning for us, we were able to marry! I feel very fortunate that we were able to get it in before Bath moved to Tier 3 two days later which would have made it impossible followed by the national lockdown six days after that. I feel even luckier that we were able to have a huge celebration with all of our family and friends in October 2021.
What Was It Like Planning Two Weddings?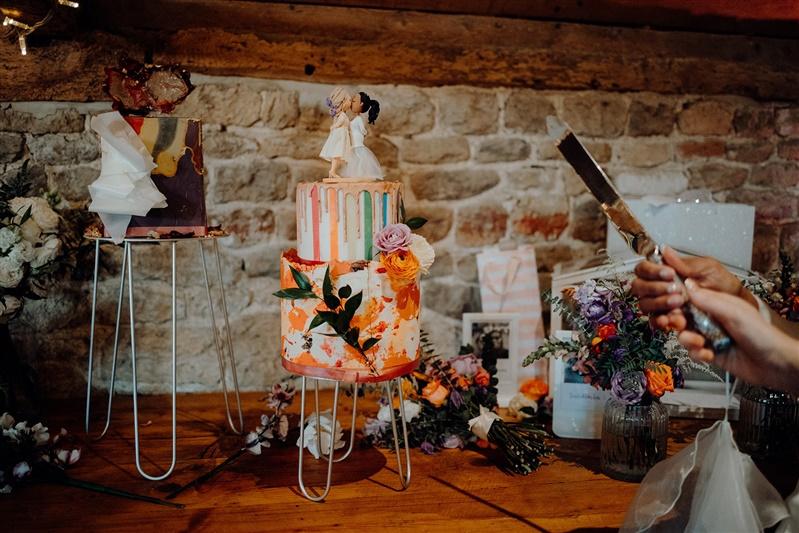 Stacey: I actually really enjoyed it, especially when we pivoted and decided to plan a wedding for 15 (including Sara and I) in Bath. We picked a venue that we didn't know or even visit for our ceremony and drinks reception, but it seemed perfect for what we wanted with the city being much more meaningful to the both of us. We are both massive foodies and I was pumped when I realised that we could book a private room at a Michelin star restaurant for less per head than what our catering was costing us for the bigger celebration. We had a seven-course tasting menu with matched wines and were in heaven.
The only negative for me was that as we drew closer to each of our days I was extremely worried that I might have forgotten something really important as I took on most of the planning responsibilities or that someone would get Covid.
If You Could Do It Again What Would You Do Differently?
Sara: Stacey got upsold on a heater for our tipi, but that's such a minor thing. Everything else I'd do exactly the same, we had the best time ever.
Stacey: Hahaha! I would definitely not get the heater as the fire pit was more than sufficient. Other than my family being absent from our original wedding, I wouldn't have changed anything. Although, we did a confetti photo on both days, and they were both rubbish, don't waste your money, or the time staging it!
READ MORE: What is a Minimony? The Latest Wedding Trend You Need to Know About
What Was It Like Being In a Relationship With a Teammate?
Stacey: Whilst we were figuring out what we were in the early stages of our relationship we were very mindful of that not trickling into the team environment and creating distractions for others or from our sporting goals. However, I found it an incredibly difficult time. We were only 'officially' a couple on one tour before Sara decided to retire.
What Marriage Advice Would You Give to Newlyweds?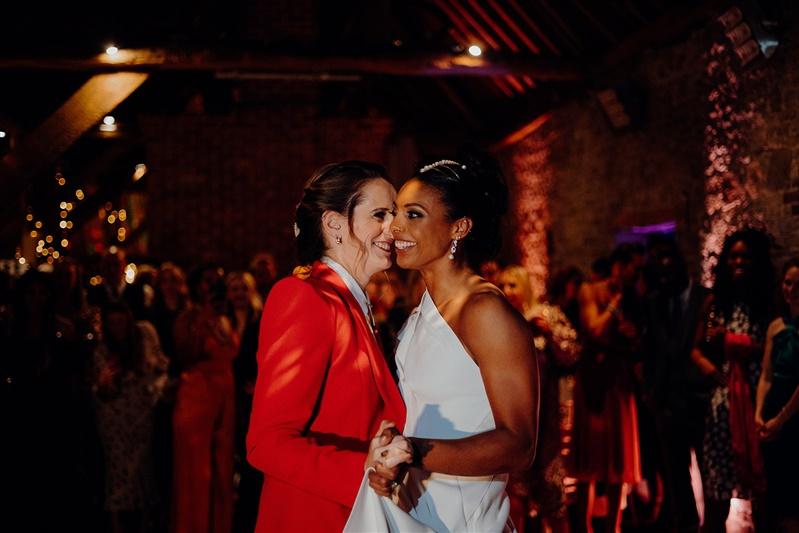 Stacey: There is no blueprint for marriage. You just need to enter into it being open and honest about what the two of you want for your futures and be confident to make choices that are for the betterment of each of you. Not what makes other people happy or fits in with convention.
You Are Living Across Two Different Continents & Time Zones - What Long Distance Relationship Advice Could You Share?
Sara: We stopped saying 'I miss you' because it didn't help and just made us sad. It's important to find time to talk even when you're both really busy, it's the mundane things that you miss about seeing someone everyday so sharing these helps to feel close.
READ MORE: 28 Chic Wedding Suits for Women to Buy Now
What Has Been Your Experience With Sharing Your Relationship With The Public?
Stacey: For me it has been the complete opposite of pressure. People have been so receptive to the two of us being a couple in our sporting world and I made a very conscious decision to step into sharing who I am. Through my own personal experiences and engagement with others I understand how incredibly important it is to have diverse representation in sport. My hope is that my confidence in being my authentic self and sharing my story with others and having open conversation creates a platform for any minorities/person to feel that they can do the same.
Tell Us About Your Couple Goals!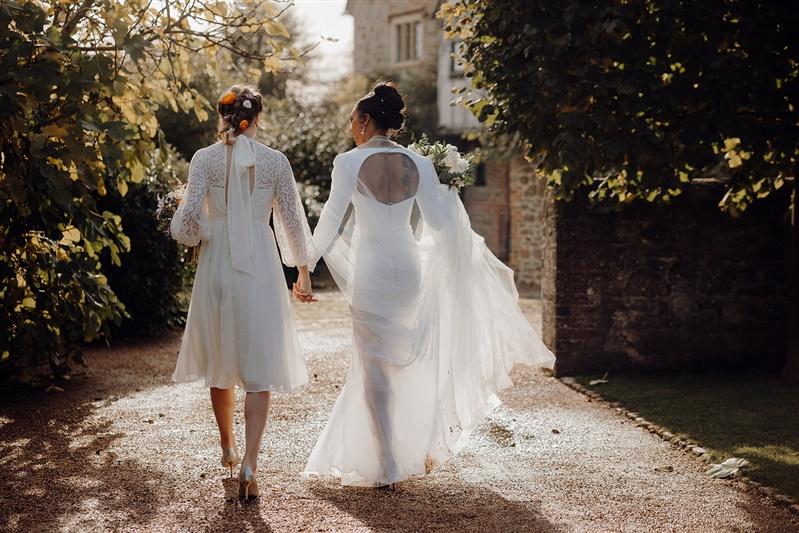 Stacey: In the Francis family, my parents are the gold standard when it comes to marriage. After them I have been the next to follow suit and I feel very well prepared for what is to come having witnessed all 30 years of their marriage. I have seen them fight fiercely for what they believe in, show love with great affection, forgive each other when needed and support one another's endeavours without question.
Sara: Both our sets of parents are still together so they're pretty inspirational. Otherwise we're just enjoying our own weird and wonderful relationship, everyone's is unique.
Follow Stacey @stcyjynefrancis and Sara @sebayman on Instagram for more!
Here are the 12 questions one same sex couple always get asked